It is already April! 2017 goes so fast!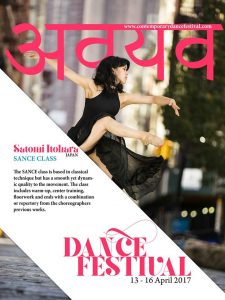 And it is the time to travel to India!! Very exciting✨

The piece is new, people is new, place is new,,, everything is going to be new at this festival!
The new work that is going to be presented at AVAYAVA is 10 minutes female solo with contemporary piano music. The taste of the piece is a bit different than other Satomi's choreography. Hope people enjoy the performance!
And there are so much things coming up in May, after the travel. There is a contemporary ballet workshop, other company's performance, and presenting new piece! Midori is here to perform together again, so it will be awesome! Please check updated performance schedule and workshop schedule 🙂 Looking forward to seeing you soon✨