Hello!
I attended "TRY A DANCE vol.14" in Hiroshima the other day! I met new people and talked a lot. It was such a great opportunity to learn different perspective toward dance.😊
The stage rehearsal was on Sat 21st, and the performance was on Sun, 22nd. But I had to work until Friday night. So I left Tokyo in the morning of the rehearsal day. I took bullet train which I love actually. Feel a bit special when I take this kind of trains 🙂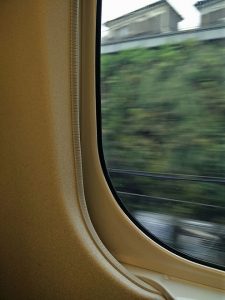 It took about 4 hours to get in Hiroshima. I was lucky to know this ballet teacher who I work for currently. Her parents who live in Hiroshima let me stay with them for this trip. Mr. and Mrs.G, thank you very much!! They picked me up at the station, and they took me to the hall. I arrived a lot earlier than my scheduled rehearsal time, so I was taking my time. But, the other performer was delayed, so my schedule was moved up suddenly. I got about 10 minutes quick warm up, then run. lol I talked with the music and lighting technician before running. I took time to check and adjust the lighting which the designer had designed beforehand based on my requests. Thank them that they could make my image in my head in real life in this short amount of time. I always think that I wish I had more knowledge about stage lighting. (well, I am the one who is lazy to study and just wish. :p)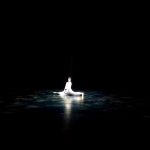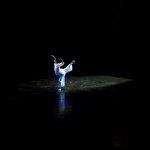 I finished the rehearsal much earlier than I expected. It was rainy day that day, so
Mr. and Mrs.G took me COSTCO and the mall in the city. I love COSTCO, that hugeness reminded me America where I miss so much! lol
The show day. We had a dress rehearsal in the morning and the performance in the afternoon. This is the very first time to meet other artists. There were artists from Yamaguchi where is my hometown, which made me a bit happier. And it was weird to say "I came from Tokyo" since I am from Yamaguchi which
is right next to Hiroshima. The dress rehearsal went by so fast and the show did too. Each piece was very unique
and I learned a lot from everyone's attitude and view towards the work. And one more happy thing is that one of my
ballet teachers in Yamaguchi came to see me! It made me really happy! And she never changes…lol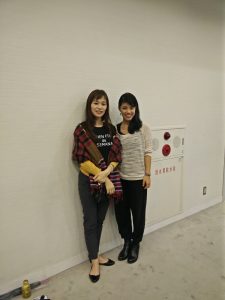 It was rainy, but the seats were full. 🙂 I had such a great time here. Thank you every one who organized this amazing opportunity! I really appreciate organizers, staff, artists, and the audience .
We had an after party at this Okonomiyaki place near the hall. I love Hiroshima stle
okonomiyaki :9 And it was nice to have deep conversations with people. I would love to meet these artists again
and work together again in the future. Every single encounter is such a special thing. I want to keep meeting new
people and spreading the circle of art 🙂
Then going back to Tokyo in the early morning. I had to work in the afternoon, so no
time to really relax. Well it is a blessing that I can work! 😉