Notice of Finish Teaching Komazawa Kids Ballet Class
As of February 2021, Satomi Itohara will retire from teaching Komazawa's children's ballet class.
From March, the kids ballet class will be held as Studio Elevate under the guidance of Ms.Harumi Kameda.
If you would like to take the class after March, please contact to Studio Elevate.
Harumi Kameda Profile(Japanese only)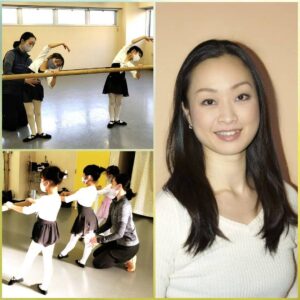 愛知県出身。
ロシア、サンクトペテルブルク300周年記念公演に出演。
アメリカ、NYにて研修、公演に出演。
2010~2015年 名古屋のバレエネクストバレエカンパニーにて市川透作品の主要キャストを務める。
2013年 Gyrokinesis®ライセンス取得。
2015年 Iwaki Ballet Companyによるドン・キホーテ全幕にて、森の女王を踊る。
2015年~2016年 カナダ、トロントにてダンサー、バレエ講師として活動。
Toronto International Ballet Theatre Companyにてソリストとして出演。
マスタートレーナーCrispin RedheadのもとでGyrotonic®ライセンス取得し、トレーナーとして活動。カナダ上位成績フィギアスケーターにGyrotonic®とバレエをプライベート指導。
2017年に東京に拠点を移し、Iwaki Ballet Companyに入団。
2017年台湾にてGyrotonic®ライセンス取得
2017年 アトリエヨシノ20周年記念公演ドン・キホーテ全幕にて、森の女王を踊る。(主演:倉永美沙、芳賀望)
トロントにてくるみ割り人形全幕ソリスト出演。
2018年3月退団。現在フリーランスダンサーとして活動中。
2018年 バレエ協会都民フェスティバル、ライモンダ全幕にてパナデロスソリストを踊る。
埼玉バレエ協会の公演にてライモンダ、佐多達枝作品"a fig leaf"に出演。
トロントにてくるみ割り人形全幕ソリスト出演。
2019年 PBT(Progressing Ballet Technique)資格取得
2019年 バレエ協会都民フェスティバル、白鳥の湖全幕にてスペインソリストを踊る。
トロントにてくるみ割り人形全幕ソリスト出演。
トロントの現地日系マガジン"TORJA"から取材を受ける。
2018年より、世田谷区三軒茶屋に自身のジャイロトニックマシンをもち、Gyrotonic®、Gyrokinesis®、プライベートクラス、グループクラスを開講中。
受講者は劇団四季ダンサー、バレエダンサー、ゴルファーから普段身体を動かさない人まで幅広くいる。
バレエのプライベートクラスでダンサーに必要な筋力トレーニングから基礎、応用まで要望に合わせて指導。
受講者はコンクールで入賞、スカラシップ受賞。
バレエ留学エージェントとしても活動していて、語学留学とバレエ留学をしたいダンサーを2017年より毎年カナダ、トロントへ送り出している。
2019年夏には小・中学生をトロントへ引率し、Tatiana Stepanova Ballet Academyのサマーコースを受講させる。
2013年よりGYROKINESIS®認定トレーナー
2017年よりGYROTONIC®認定トレーナー
2019年GYROTONIC® level.2 取得
2019年よりPBT(Progressing Ballet Technique)ライセンス取得