Hello!
It is already October. Time flies! I will be performing a solo in Hiroshima this month and performing a duet in Tokyo next month 🙂
So what I was doing in September was different. I did two dance film projects. These were personal projects, so I am not sure where these going to go exactly, but I had such a great time with videographers 🙂 It was very unique experience to dance outside on the streets. One project was asked by this German photo/videographer, and the other one was asked by Indian dancer who I met at the festival in April in India.
Let me tell you about these two projects this time 🙂
Dance Film Project①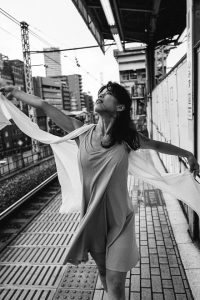 The first project. One day this German photo/videographer messaged me via Instagram if I am interested in being a part of his dance film project. I visited his page and saw beautiful pictures, so I decided to join. Then he told me that he is visiting Japan
a few weeks later, so we planed to have a shooting. Everything went so fast! We decided to have
a shooting early morning. Very very early. lol He told me the theme of the project and music, so I could prepare for it in advance.
Early Morning Shooting
So, the schedule was kinda crazy. He wanted to shoot around sunrise
time, so we met up at 5am at a station where we decided to have the shooting. There are few trains running that early, so I biked. Carrying a lot of stuff and leaving home before sunrise. I felt I was doing a moonlight filt. lol We had been only messaging, and I was nervous/excited to meet this person who seem to have passion in the arts. Literally we met for the first time, but we had such a great time shooting together. I felt lucky that I can communicate in English.
We thought there would be few people at the station, but actually there were many which was surprising. We took place at the end of the platform, it wasn't crowded. 🙂 But the environment that I expected was very different, so I didn't used the movements that I had in my mind, and I did just improvisation for the most part. And I got a bit scared when I was very close to the edge of the platform. :p
We finished the shooting a bit after 7am, and I went back to
regular work. I was very sleepy rest of the day, and got sore right after since I danced on very hard floor. lol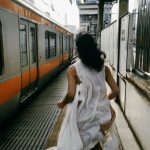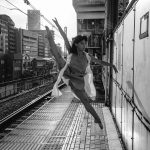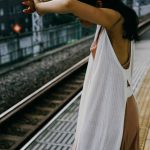 He used film camera, and he cannot check until he goes to the studio. It is going to be surprise how things gonna turn out!
Dance Film Project②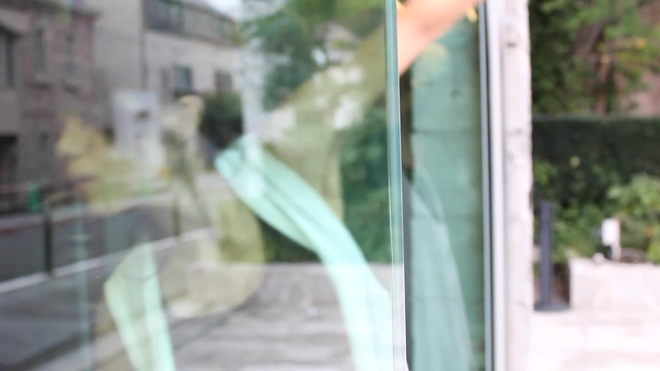 I was asked if I am interested in being a part of this project by the dancer from India who I met at dance festival in April. They are collecting dance films from all over the world. The videographer for this project was one of my friends from NY. She is great at taking photos and videos in addition to dancing! So talented. She is based in Nagoya now, but she traveled to Tokyo for this.
There was no specific theme, so I just improvised. We went to multiple places. We had evening shooting and morning shooting. We walked around the city a lot. Trying to find Tokyolike,Japanlike spot. But there were many places that looked very interesting via lens. Again, hard floor made me so sore after, but had a great time with her.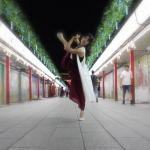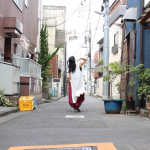 She put the video together later and submitted online. Her sense is just amazing✨ Thank you so much!!
Dancing Outside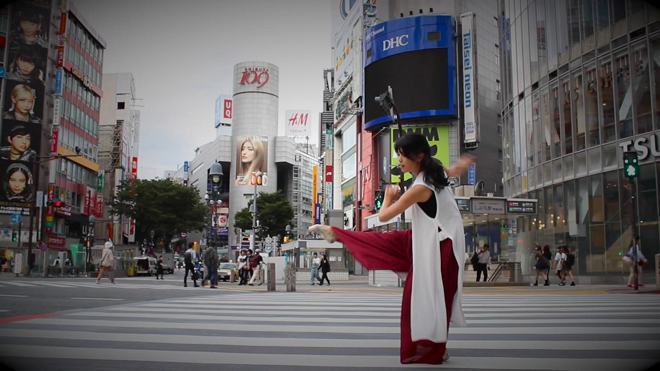 Both project asked me to present my contemporary ballet style movement. So, I chose to wear socks. I was a bit worried if it would be too hard, but actually it wasn't bad at all. I liked walking around outside in socks. lol It was refreshing to dance around with no restriction😊
Anyway, I am excited to see the finished products!