This time, I am writing about the dance festival in Pune, India. I was very excited to spend time with new environment and people. Let me share about the experience I had there today.
AVAYAVA Contemporary Dance Festival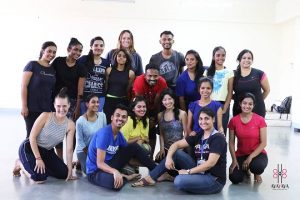 The festival started the day after my arrival to India. AVAYAVA Contemporary Dance Festival is the festival that gathers artists from all over the world and have them have workshops in Pune for 4 days. On the last night of the festival is the performance evening, and we performed original works on stage. On the 2nd and 3rd night, we had improvisational performance session at a gallery and a restaurant and dance film viewing at a outdoor theater which was on a rooftop. Participants of the workshop had so many different background, beginner to experienced, younger and older people, etc.. However, everyone had such a great energy, and I had such a great time with them all the time. They were so vigorous and hard workers regardless of the hard floor and the hot weather.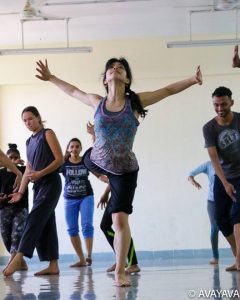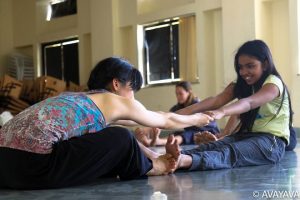 Artists and companies were from Japan, USA, Canada, Australia, France and India. And each artist and company did unique workshop such as contemporary dance, Horton, contact improvisation, repertory, and Indian music. We all could attend others' workshop, so I could experience different style and learned a lot.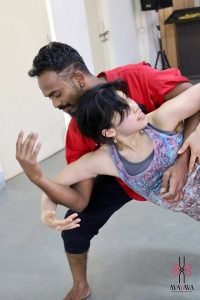 The improvisational session that was held at the gallery and restaurant was performed by a few artists. Customers at the restaurant was very excited by the performance, and it was very cool to see that everyone was enjoying and attending the moment together. Film viewing was held on the rooftop. We watched documentary about traditional Indian dance and short dance films, and "Mr. Gaga"(documentary movie of the director/choreographer of Israel's dance company). I wanted to watch "Mr.Gaga" sometime, so it was very nice to have an opportunity to watch it.
Then the stage performance day had come. I performed 10 minutes contemporary solo. Works on the program had such a nice variety and fun to watch. There were contemporary with traditional Indian tastes, American and European like works. The audience were so warm and cheerful, and it was nice to have people from the workshops that I taught in the audience.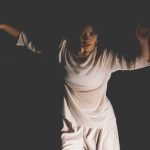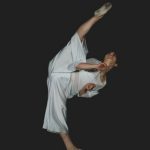 After party was so much fun. Lots of Bollywood music and dance. I felt that all Indian people can dance Bollywood dance naturally. That's how good they were at Bollywood dancing. Bollywood dance make both dancer and audience happy. I regret that I forgot to take video of it. lol
Delhi Sightseeing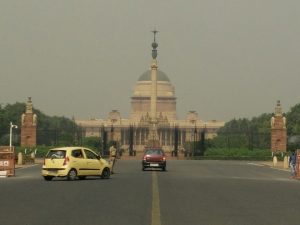 Then, the festival was over, and I just had to go back to Japan. When I was at Pune airport, I was happy that I could connect wifi access. But I was too careless to notice the gate change. Suddenly I heard my name was called on the last minutes announcement. I rushed so bad. lol People, be careful of gate change when you travel. 😉
I had to transfer at Delhi but my lay over time was over 12 hours. So I decided to go out to see the city. The artist who I met at the festival recommended this taxi driver to take me around the city. She visited the Delhi before the festival and she told me that this driver did amazing job on navigating her. So I got in touch with him, and as she told, he did such a great job showing the city 🙂 But it would be much easier if I prepared my own wifi access. Even though airport had wifi, it had time limit and I
couldn't reach to the driver in the last minutes. So I was very lucky to be able to meet him
actually.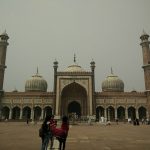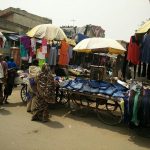 He drove me around the city and showed me some of main sightseeing spots in Delhi. He was very kind and he explained many things about the places we went. I felt that Delhi is such a big city, which make new part and old part of the city very distinct. Also many different class of people live together, so I had to be very careful on every moment. However, the historic landmarks were so beautiful and I wish I was able to see more places. If I get a chance, I would love to visit again.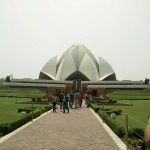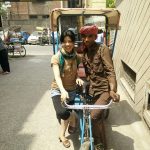 For lunch, the driver took me this nice restaurant. But when the waiter found out that I was Japanese, he kept recommending Tandoori chicken, so I ended up having
Tandoori chicken. lol It was very good, though. 🙂 I didn't have curry much on this trip, but I certainly had local foods that I didn't know the name. I liked all food I had. Indian foods are
great to me :9
Finish Dance Festival
Time flied and the festival was over. I traveled alone, but at the festival, I was helped and cared by so many wonderful people there. So I don't feel that I traveled alone. I would love to keep in touch with people I met here and hope to have another adventure together again. I think it is important to experience different environment, meet new people, and face different values to open my view. I faced how small I am still, but this is going to nourish my life. There are more things that I couldn't put in this page, but anyway, I will keep trying to grow as an artist and a person.✨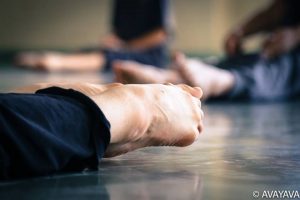 ☝3 things to know for India Trip
1.Temperature
I traveled in April, but the temperature was very hot, close to 40℃. It was dry so I didn't sweat like Japanese or NY's summer. But when I was under the sun, it was just HOT. But evening was cooler and I was okay not having an air conditioner. Delhi was similar temperature. When I visited a temple, I had to remove my shoes. But the floor was sooooooo hot that it was almost penace. lol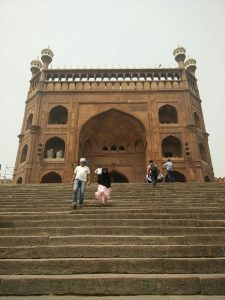 2.Rupee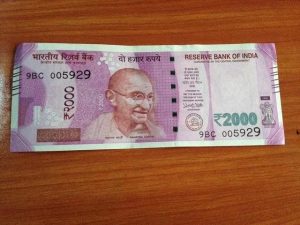 Indian currency Rupee.You cannot bring this to your own country .You must exchange Rupee before leaving from India.
3.Plug Socket
Another unpreparedness. Indian plug socket is different from Japanese and American one. So, the roommate artist let me use there charger to charge my phone.
Thanks to them. Very much. I found plug adapter on the way home at Delhi airport. hahaha
4.Bug repellent
I hadn't gotten mosquito bites much in the States or Japan. So I didn't think about it at all. And it was very hot in April, so no wonder mosquitoes were being active. So, I got tons of mosquito bites. It was not so itchy, but you should think about mosquito repellent if you care.